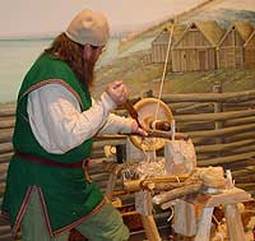 Bowl turning as a trade dates back to well before the Viking Age (700-1000 AD). Early bowl turners used spring pole lathes to produce commonly used domestic "treenware".
---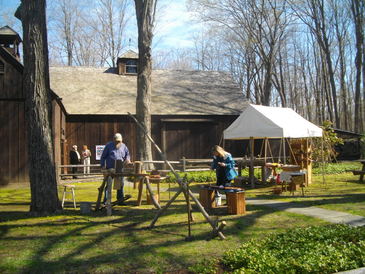 "

In my years as an entertainment buyer, it was uncommon to come across someone like Roger. Not only is his presentation compelling and satisfying, he is one of the most personable individuals you will every meet – his interaction with the crowd is first rate. As one of only two people in the world who can do what he does, Roger is a rare find. Know that if you book Roger once, you'll have him back again and again!"

---Chris Tahti – Freestyle Productions, Minneapolis, MN – (Former Entertainment Director of the Minnesota State Fair
​
"This is the best thing I've seen at the Fair!" --- Minnesota State Fair Patron – 2006
Minnesota State Fair – St. Paul MN
Erie County Fair – Hamburg NY
Dixie Classic Fair – Winston-Salem NC
Oklahoma State Fair – Oklahoma City OK
Delaware County Fair - Walton NY
Eastern States Exposition – West Springfield MA
Anoka County Fair - Anoka MN
Hennepin County Fair – Corcoran MN
Arapahoe County Fair – Aurora CO
Madison County Fair – Madison NE
Scottsbluff County Fair – Mitchell NE
Collier County Fair – Naples FL
Osceola County Fair - Kissimmee, FL
Smithsonian Institute's Viking Exhibition: 2002-2003
Vesterheim Norwegian-American Museum - Decorah, IA
Fauquier County Fair - Warrenton, VA
Dollywood -Pigeon Forge TN
Many other historic festivals and events.
---
Roger Abrahamson, 5147 37th Avenue South, Minneapolis MN 55417 * 612-369-1399